December 29, 2019
by Jessica Lewis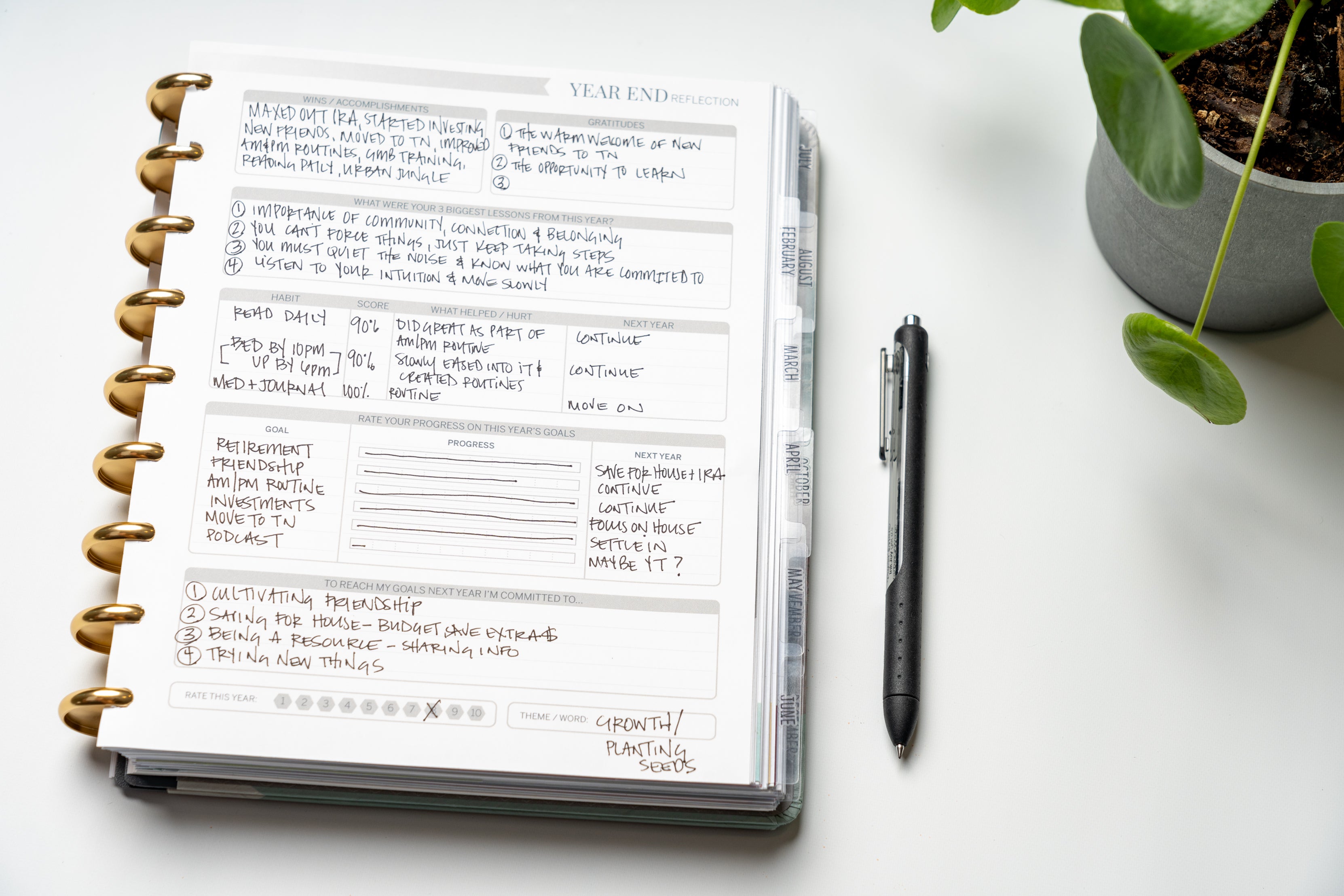 The new year is almost here and it's time to get those planners equipped for 2020 success! To support you in setting up your 2020 goals and using your planner as a tool for success we are hosting #KOplannerprepweek this week!
Day 1 -  Reflect! Taking some time to reflect on the past year is essential to setting goals that are achievable in 2020. Figuring out what worked and didn't along with letting go of goals that aren't right for you and continuing the ones you've been working on is all part of the process.  
Recommended Tool:  Reflection Insert
Day 2 - Assess! You must know where you are at in order to set goals that are realistic and balanced.  Whether you use the Makse Life Compass Assessment, Inkwell Press's Life Wheel in their Goal Planner, Power Sheets or your own assessment tool taking inventory of where you are right now is key!
Recommended Tool: Makse Life Compass Assessment
Day 3 - Brain Dump! The first phase of goal setting doesn't need to be pretty.  In fact sometimes trying to make things pretty prevents us from truly figuring out what goals are best for us or are what we really want.  Be sure to take a few minutes to brain dump anything and everything you are considering working on in 2020 (goals, projects, tasks, etc)
Recommended Tool:  Grid Paper Insert
Day 4 - Goal Set & Commit!  Now it's time to look ahead.  Categorize and narrow down those goals.  Decide what you are 90% committed to in each area of life and put pen to paper.
Recommended Tool: Makse Life Planner (Annual Goals Page), Inkwell Press Planner (Annual Goals Page)
Day 5 - Plan it & Break it down! The only way we achieve bigger goals is by breaking them down into smaller actionable tasks and daily habits.  This part can be tricky for many of us and sometimes enlisting the support of a coach or accountability group is helpful in figuring out how to break things down & create a plan. Think about all the steps, skills, behaviors you need to master & adopt to reach a certain goal and scale those things down to the tiniest steps possible.  Then note Monthly, Weekly and Daily Goals & Actions in your planner.
Recommended Tool:  KOPS Weekly Focus Insert, Makse Life Planner (Monthly Goals & Weekly Action Steps Pages), Inkwell Press Planner (Mission Board)
Day 6 - Year at a Glance!  Now that you have your goals set, be sure to take time to get all the major life stuff down in your monthly spreads.  We want a big picture view of everything going on in your life, so you can ensure your day to day aligns with your goals.  (ie scheduling your workouts around your work schedule to help you achieve your fitness goals).  Check out my How to Prep Your Planner for the New Year video for more info on this step!
Recommended Tool:  Monthly stickers
Day 7 - First Week! Alright time to break in those weekly spreads and map out week one of the new year! No matter what planner you are using be sure to get all the time sensitive items down first (appointments, events, deadlines), then arm yourself with a weekly to-do list to plug in when to get everything done. And be sure you have those goals front of mind so they don't get lost in the shuffle of your day-to-day.
Recommended Tool: KOPS Weekly Focus Insert, Weekly Action Step Sidebar
Each day this week post a pick based on that days task/prompt and use #KOplannerprepweek to spread the goal setting, planner prepping inspiration!
Need a little more inspiration and direction for setting goals check out my 2020 Goal Setting in my Makse Life Planner & Inkwell Press Weekly to get a peek into my process. 
*please note their are affiliate links in this post.  If you use our links to make a purchase we do get a small commission and truly appreciate the support.
Leave a comment