Optimizing Your Planner for Goal Setting | The Goal Getter Collection | New Releases
April 11, 2019
by Jessica Lewis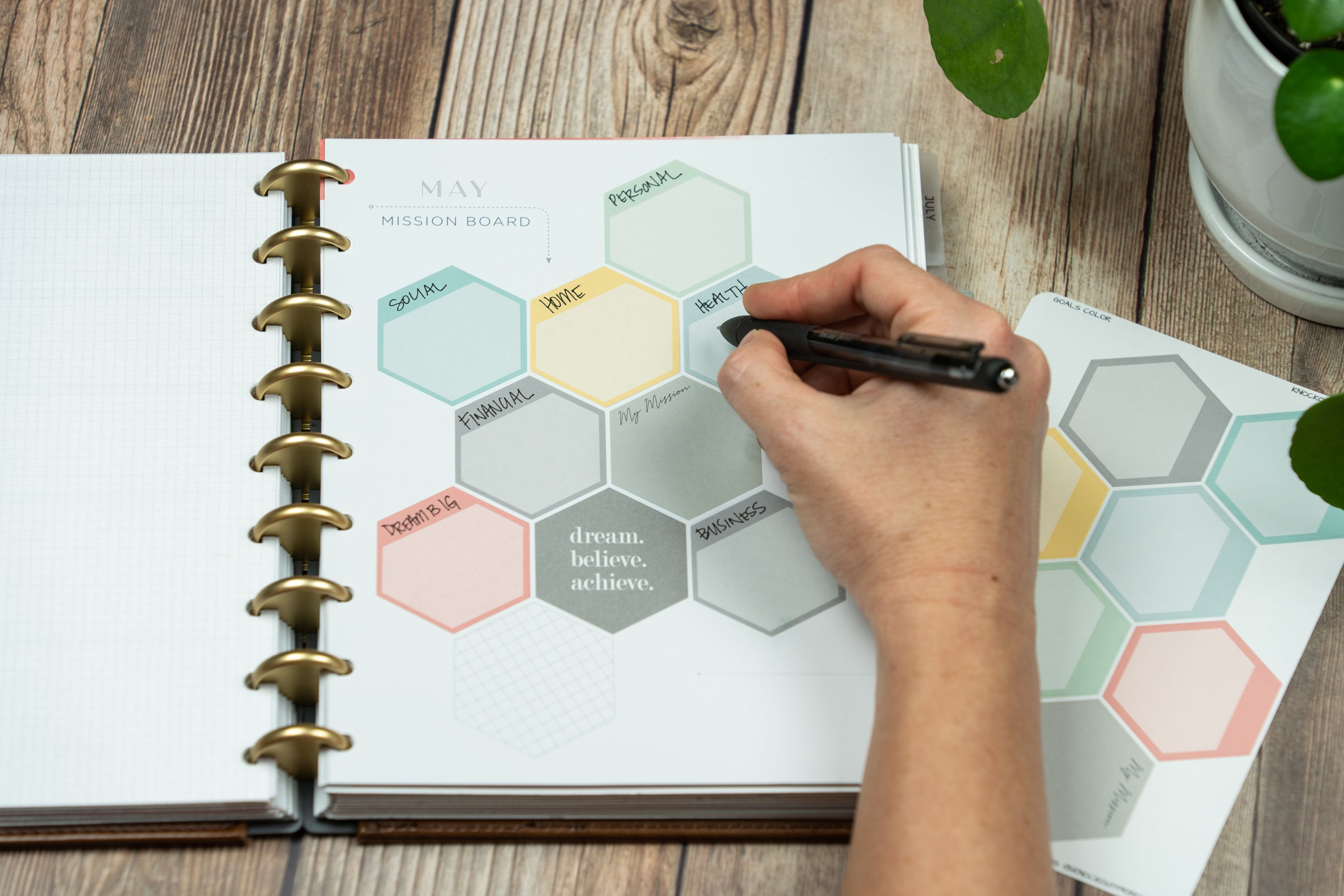 For the first time ever I've been consistently using the goal setting components of my
Inkwell Press Planner
and I'm love it! It's keeping me focused, helping me build new habits (with the addition of our
habit tracker inserts
) and forcing me to break down my goals in an effective, achievable manner.
Yet with all that said, I've found a few pieces of the IWP system lacking (or just ways to enhance it) so we created some complementary tools to help me and
YOU 
truly optimize our planners & reach our goals!
Enter the Knockout Print Shop Goal Getter Collection...
Issue #1:  IWP Goal Section color palette is different from Monthly Mission Board color palettes
While I love that the monthly mission board color palettes are different each month, rotating the four 2019 IWP color palettes throughout the year, I think the downfall of this design is that it's not intuitive when it comes carrying over & breaking down your goals from the Goal Section of the planner.  I totally appreciate the variety of colors but from a strictly practical standpoint I find it not so user-friendly, without always flipping back to the Goal Section, to be sure my monthly goals are aligned with my annual & quarterly goals. 
Solution: Goal Mission Board Hexagons
We created Monthly Mission Board Hexagons that coordinate with the color palette of the Goals Section of the planner! That way you can more easily coordinate your monthly goals with your annual & quarterly goals for each category. 
Issue #2:  No Designated Spot for Weekly Action Steps in the Weekly View
While not everyone uses their planner for goal setting, those that do may find, like I have, that not having a place for weekly action steps related to each month's goals is a weak link the chain.  
Solution:  Weekly Focus Insert & Goal Arrows
We created a Weekly Focus insert for those using the IWP Disc Planner so you can breakdown weekly action steps relate to each of your monthly goals and their coordinating category in the Goals Section.  This will allow you to implement one baby step you can focus on each week per goal. And for those of you that don't use the IWP Disc Planner our Goal Arrows allow you to use the Notes section or any area of your weekly spread to create a weekly action step section that coordinates with your goal categories! 
Issue #3:  Difficulty Staying on Top of Habits related to Goals
Of course not all habit building is directly related to your goals, but for the ones that are without color coordinating it's hard to easily know what goal you are chipping away at while building your new habit.  Plus, I find having to flip pages to get to your habit tracker is not ideal for me - I must have that habit tracker right in front of me in my weekly spread. Who's with me?!
Solution:   Neutral Habit Tracker Insert, Goal Habit Hexagons & Goal Weekly Habit Trackers
If you are an IWP Disc Planner user our new Neutral Habit Tracker Insert + Goal Habit Hexagons are the perfect pairing to track those habits related to your goals! Not a Disc Planner user? No worries you can easily use our Goal Habit Hexagons on your planner's habit tracker page OR our Goal Weekly Habit Trackers.  Either way tracking those habits specifically related to your goals just got easier!
Issue #4:  Tracking Tasks Related to your Goals
Staying on top of your goals is hard enough - especially with goals that have lots of action steps! It can be a challenge to remember what you've done or need to do regarding each category's goal.
Solution:  Goal Mini Hexagons & Arrows
Easily create to-do lists or simply mark tasks related to your goals in each category anywhere in your planner with our Goal Mini Hexagons & Arrows.  You can even use these on a note page to create a full color coded action plan for each goal!
We LOVE Inkwell Press and the focus on goal setting the planner has built in! Our new Goal Getter Collection takes an already awesome product and enhances it a bit.  With our mission to help you find ways to better optimize your planner & reach your goals, we are excited to launch this collection and give you some tools to enhance your goal setting process.
Check out my video on How to Optimize Your Planner for Goal Setting & to see our Goal Getter Collection in action!
Ready to start optimizing your planner for goal setting success? Shop the The Goal Getter collection! 
Leave a comment