KO News: Whats new at KOPS for January 2020?!
December 30, 2019
by Jessica Lewis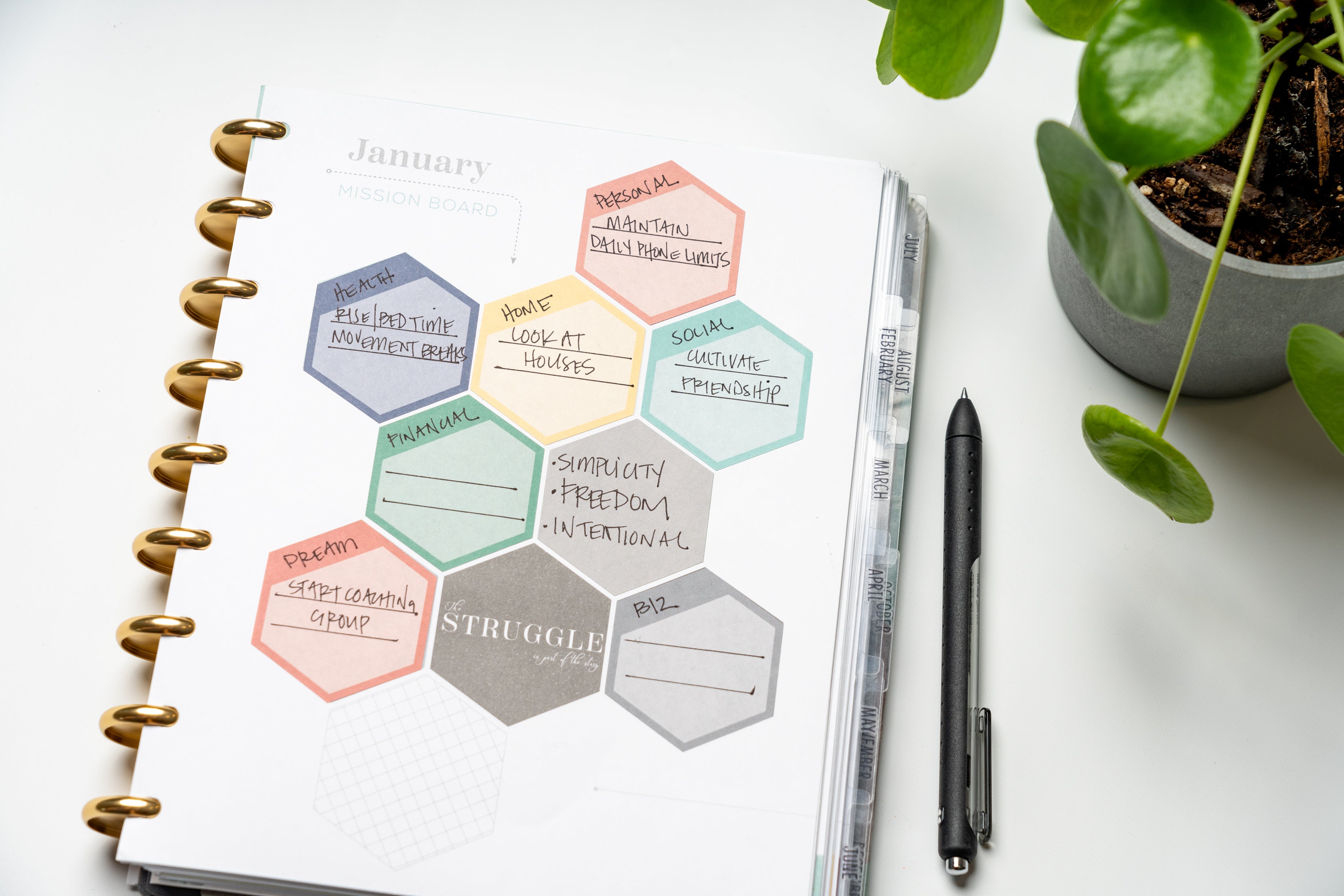 We hope everyone had a wonderful holiday season & creating tons of great memories! It's time to get the ball rolling for 2020 and make things happen! 
Planner Prep 2020 Challenge
The new year is here and it's time to get those planners ready for 2020! To support you in setting up your 2020 goals and using your planner as a tool for success we are hosting #KOplannerprepweek this week! The challenge started on Monday, but you can still join in and use this 7 step prep anytime! Head over to our Planner Prep 2020 post to learn more!
Individual Planner Coaching
Need help setting up and optimizing your planner? Not sure what stickers and inserts to buy? Struggling to breakdown your goals into actionable steps that get you results? Then Planner Coaching might be a great solution for you! 
Jess is now offering one hour Planner Coaching Sessions via Zoom to help people optimize their planners, select beneficial products from our store, improve their time management & systems and set goals that are meaningful and actionable. To inquire email Jess at hello@knockoutprintshop.com.
Goal Setting & Accountability Group Coaching
If you are looking for support with accountability & goal setting in a welcoming group setting please take our short survey to let us know your interest level and what you are looking for in a group.
Our #winKOPS Winner is...
...
Lisa Weisman
! Thank you Lisa for spreading the KOPS love and sharing your recent order on IG! We will be reaching out to you via Instagram to send you your prize!
Jess' December Spreads
December was a full month of business craziness & adulting fun in my world! I continued trying to use up all my 2020 stickers and the pickings were slim in my Yosemite stash, but I still got good use out of my weekly spreads and tried a few new layouts! Check out my latest video "Adulting with Stickers | December 2019 Plan With Me" to see my planner in action last month!
January KO Tribe LIVE Q&A
Our January Knockout Tribe LIVE Q&A will be held on Tuesday, January 14th at 6pm CT over on Youtube! Since this event is exclusive to Knockout Tribe members ONLY you will find the link to the private event in your January KO Newsletter, our FB Group and the reminder email sent out on 1/14/19 !
Newest Products in the Shop!
In case you missed it here's what we released in November...
We will continue releasing new products every Friday in January starting 1/10/20 (please note there will not be a release this Friday 1/3/20). All collections & items included in each release are not yet determined.     
Planner inspiration & tips!
From letting go to prepping your planner for the New Year our video line up from last month was full of tips, insight and real talk! 
And if you are looking for more planner spread inspiration be sure to follow us on Instagram to see Jess' spreads in action! As always you can shop all Jess' favs in the Jess' Favorites Collection! 
Shop our Clearance Outlet - Great Deals!
2017 Inkwell Press Clearance is $1.00 per sheet
2018 Inkwell Press Clearance is NOW 75% OFF!
Passion Planner Pro Clearance is NOW 50% OFF!
 Shop our Clearance Outlet and save BIG! 
Rewards Program!
Did you know we have a rewards program?! If not, be sure to join and start earning points on every purchase you make.  You can find the details here and to sign up simply click the Rewards button on the bottom left of your screen!
Love to Plan, Organize & Connect?
Join our welcoming, fun and inspiring Knockout Tribe Facebook Group! From planner inspiration, fun polls, exclusive discounts and productivity ideas our Facebook Group is the place to be for planner peeps! 
Be the first to get KOPS news, including product launches, promos, contest, events and more! Join the Knockout Tribe! - ps. you get a sweet discount on your next order as your first perk!

*this post contains affiliate links.  We do get a small commission if you use our links*
Leave a comment