How to Prep Your Planner for the New Year | Inkwell Press Disc Planner
December 16, 2019
by Jessica Lewis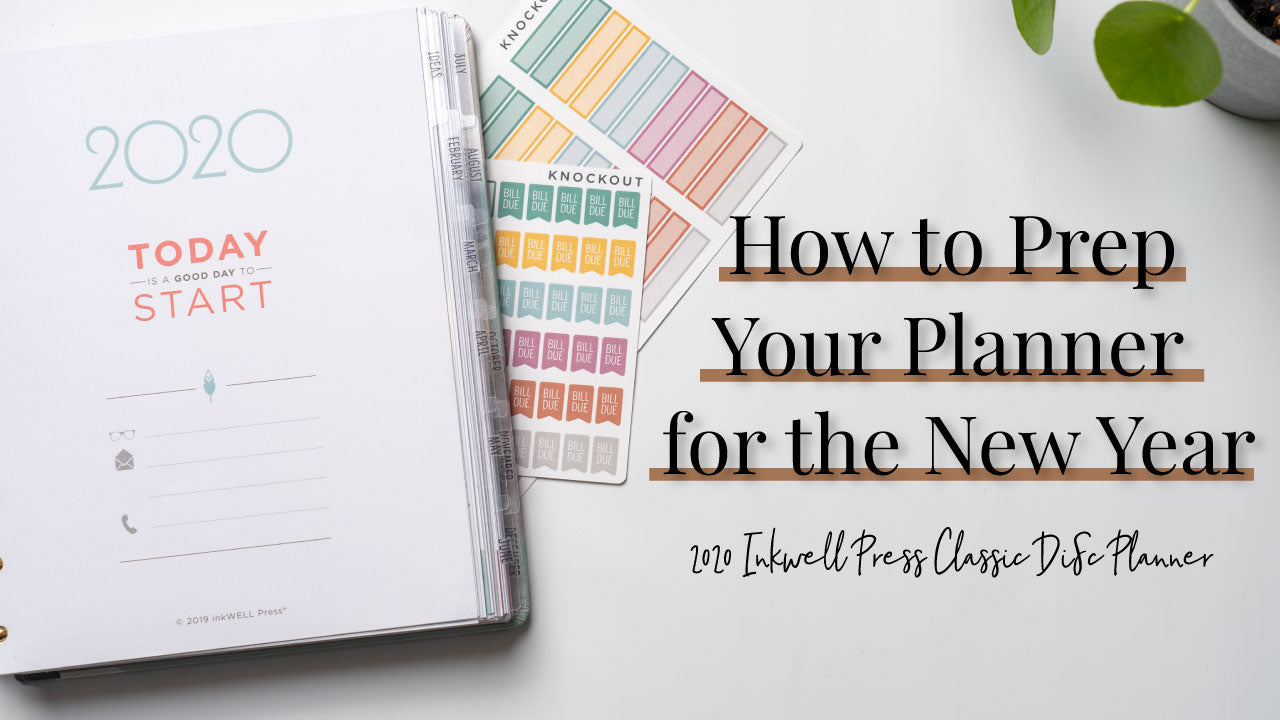 The new year is just two weeks away and now's the perfect time to get the basics down in your planner before January 1!
I like to keep it super simple when I'm prepping my planner for the year ahead.  I focus on the basics and the big things I know are for sure happening! Once you get the major things down you can get the details in as you prep for each quarter and/or month.
This planner prep is all about logistics and events NOT goal setting.  When it comes to setting my goals for the new year, I start with a Year End Reflection and then dive into what I want to achieve in the new year (Annual Goal Setting Video coming soon). 
I break my prep into categories as follows:
Financial 

Note irregular bills (ie biannual car insurance)
Note when to check & rebalance your investments 
Note Tax Day & quarterly tax due dates if applicable 
Determine and note your savings deposit schedule

Important Dates

Birthdays
Anniversaries 
Holidays

Events

Workshops
Conferences
Classes

Travel

Business 
Personal (holidays, birthdays)
Vacation

Kids

School Schedules
Sports Schedules

Appointments

Hair appointments
Doctor's appointments 

Personal

Important tasks (ie changing contacts, ordering meds, etc)
Projects (home improvements, landscaping, etc)
Chores (quarterly chores like cleaning oven, changing air filters, etc)

Work

Deadlines
Meetings
Events
When it comes to planning your year, think big picture and major things that you need to base your months, weeks and days around.  It's okay if you don't remember everything, just add as you go.  Also sticky notes are a great way to tentatively plan travel, events and more! 
Annual Planning Must Haves:
(oh and if you prefer a Monday start to your month view...check out our Month View Day of the Week Cover Strips & Date Dots)
While I used my 2020 Inkwell Press Disc Planner, this annual planner prep checklist/system is a great place to start as you get ready for the new year no matter what planner you use! 
Stay tuned for my Makse Life Annual Planner Prep as well as my 2020 Goal Setting in both my Inkwell Press & Makse Life planners!
*this post contains affiliate links.  If you use our link to purchase we do get a small commission and greatly appreciate the support
Leave a comment