How to do Goal Reflections for Continued Progress
March 22, 2021
by Jessica Lewis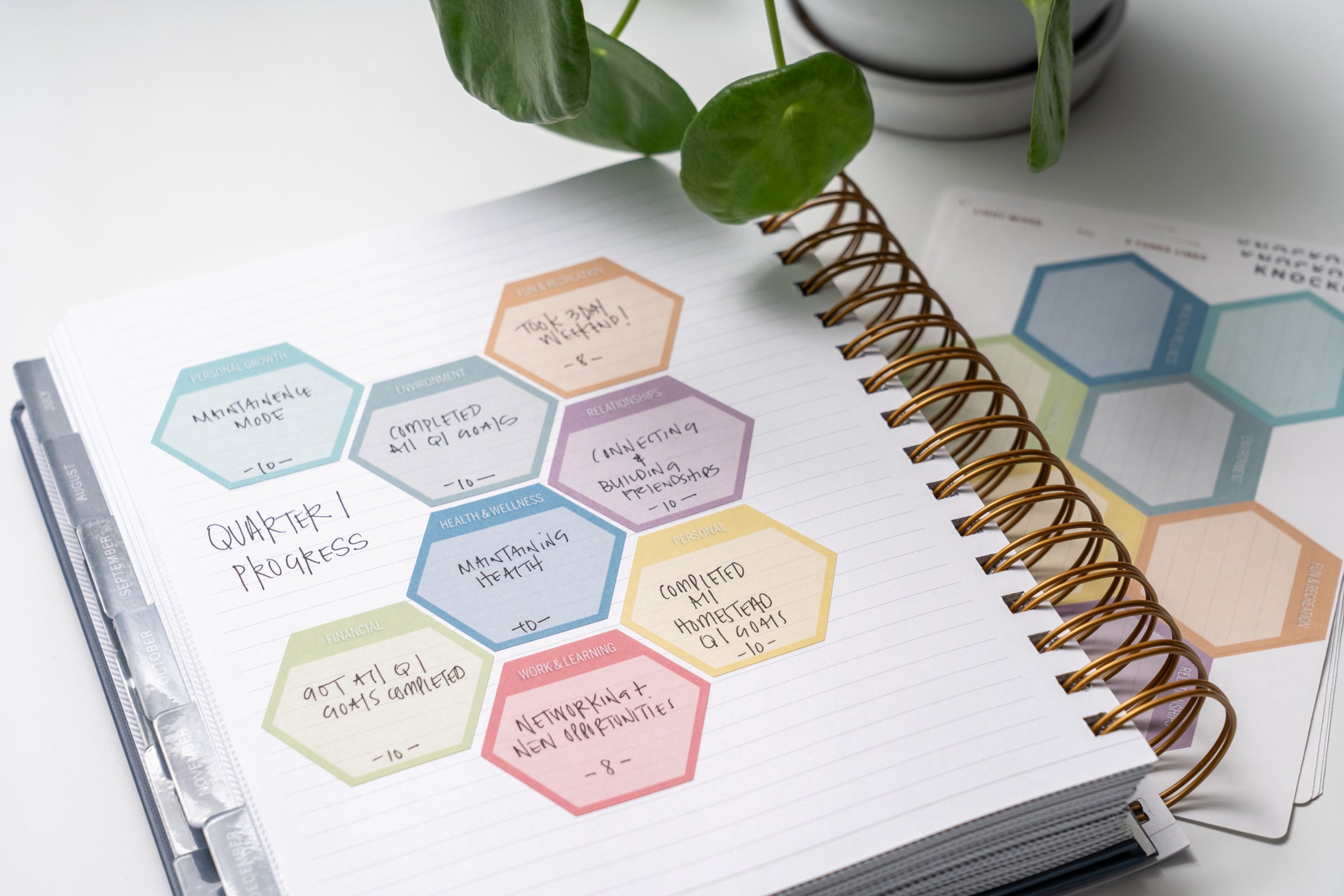 For those of you using your planner to help you with goals, one key part of that process is doing reflections and progress check-ins.  Taking time to pause and assess how you are doing allows you the opportunity to figure what is and isn't working, make any necessary adjustments, and give yourself credit to keep that momentum going.  
There are a variety of ways to approach this reflection piece and it's essential you do it in a way to works for you!  Maybe you journal in a separate notebook, make notes in the blank pages of your weekly planner or have a monthly coaching call with your coach, mentor or accountability partner. There is no right or wrong way to do your goal reflection/check-ins, but sometimes sitting down to a blank page can leave you feeling lost and overwhelmed. So today we have some prompts and tools we want to share to help you with the goal reflection/progress check-in process.
Prompts Ideas:
What is working?
What isn't working?
What can I do differently to get closer to my goal/be more consistent?
What support do I need to make progress?
What will help me overcome the obstacles in my way?
What lessons have I learned?
Is this goal or habit still important to me?
What are my wins?
What were my challenges or struggles?
What am I grateful for?
On a scale of 1-10 (10 highest) what is my progress on each goal?
Do you use any prompts we didn't mention? If so, feel free to head over the to KO VIP group on Facebook to share!
Planner Tools:
Monthly calendar. Use your planner's monthly calendar to note a daily highlight or habit track. This allows you to see how you are doing at a glance.
Weekly Spread Bottom or Side Boxes.  Whether you use a vertical or horizontal planner the "box" on the bottom or side is a great place to note gratitudes, highlights and notes to help you when sitting down to do your weekly or monthly reflections.
Notes Pages. Your planner's blank notes pages is a great place to do your weekly or monthly reflection by using them to journal, note answers to the prompts above or if you want to get creative us our goal hexagon stickers. We have Makse Life Goal Hexagons with Headers, Makse Life Goal Hexagon Without Headers, Inkwell Press Mission Board Hexagons to help you add some fun and function to your goal reflection/check in process.
The process of reaching our goals is never an easy one.  There will be ups and downs, highs and lows, but if you take the time weekly or monthly to reflect on your process you will be able to make adjustments so you can continue moving forward and give yourself that need momentum to keep truckin'!
Looking for more goal related stickers? Check out our Goal Getter Collection!
Leave a comment