Done is Better than Perfect | December 2019 Reflection
January 06, 2020
by Jessica Lewis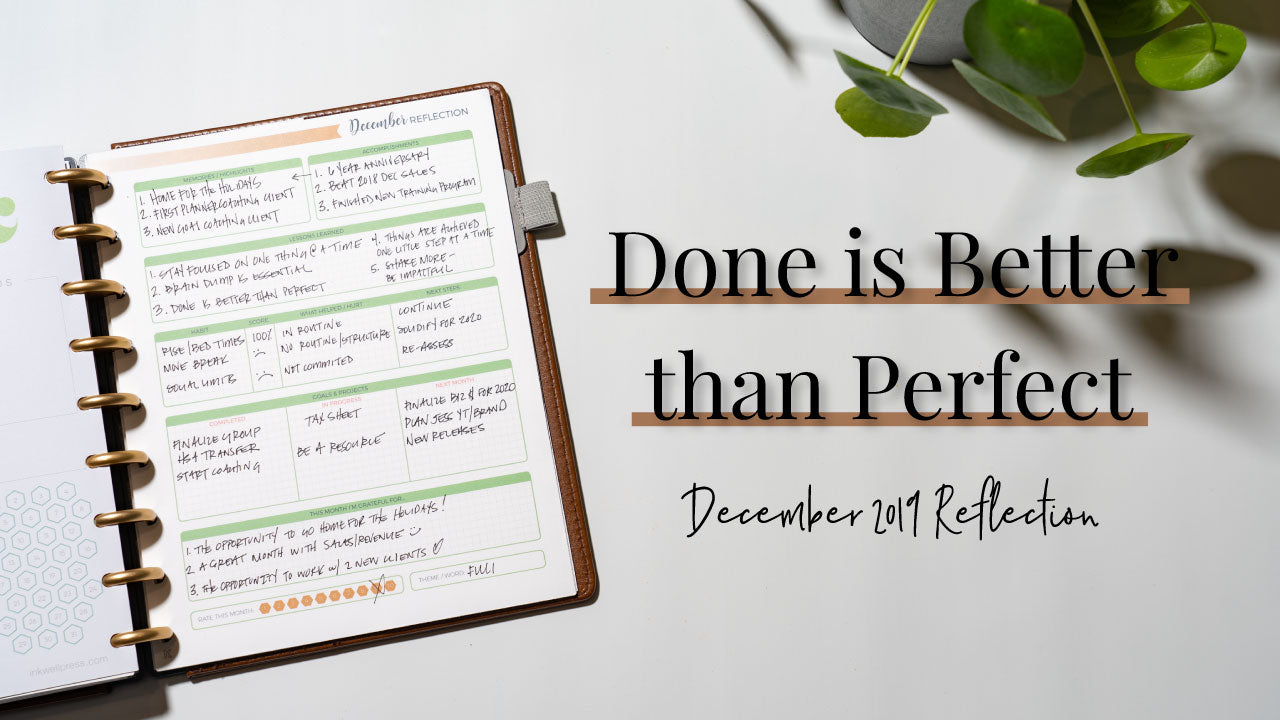 My word for December was Full! Last month was full of memories, travel, orders, sales, content, ideas and more! Matt & I were definitely tired from a busy December and still recovering, but we are beyond grateful for such a great month of many levels.
This month was a big lesson in "done is better than perfect"! While I "know" this on an intellectual level, I'm embracing the concept and using it to execute things in my life.  The only way to get things done is to get started! It doesn't have to be pretty!
Here's a breakdown of my December 2019 Reflection: 
Highlights/Memories
Went home to Chicago for the holidays 
Our 6 year dating anniversary
Finished a new Kettlebell training program 
Accomplishments:
First Planner Coaching Client
New Goal Coaching Client
Beating 2018 December Sales
Lessons Learned:
Stay focused on one thing at a time
Brain dumps are essential 
Done is better than perfect - definitely the theme for December and moving forward into 2020!
Things are achieved one little step at a time
Share more
Habits:
This month I didn't focus on building new habits, but instead continued with my Rise at 6am and Bed by 10pm.  My other 2 habits (daily movement break and social lints) got neglected and I'll be reevaluating those for January.
Goals & Projects:
I got almost everything done on my mission board (aka monthly goals)! Everything from finalizing my new online strength training program to making my last 2019 HSA transfer! Next month will be all about mapping out and finalizing 2020 finances, getting back to weekly product releases and planning the launch of a Jess Youtube channel.
Overall it was a great month and I'm feeling ready to take on 2020! If you want to hear more details and Jess musing check out my video below! 
Shop our Reflection Inserts!
Looking for a new planner for 2020 to help you reach your goals? Check out the Makse Life Planner and 2020 Inkwell Press Disc Planners!
*please note this post contains affiliate links.  If you choose to purchase using our links we do get a small commission and are beyond grateful for the support!
Leave a comment