Do I still love my Inkwell Press Disc Planner?
April 19, 2019
by Jessica Lewis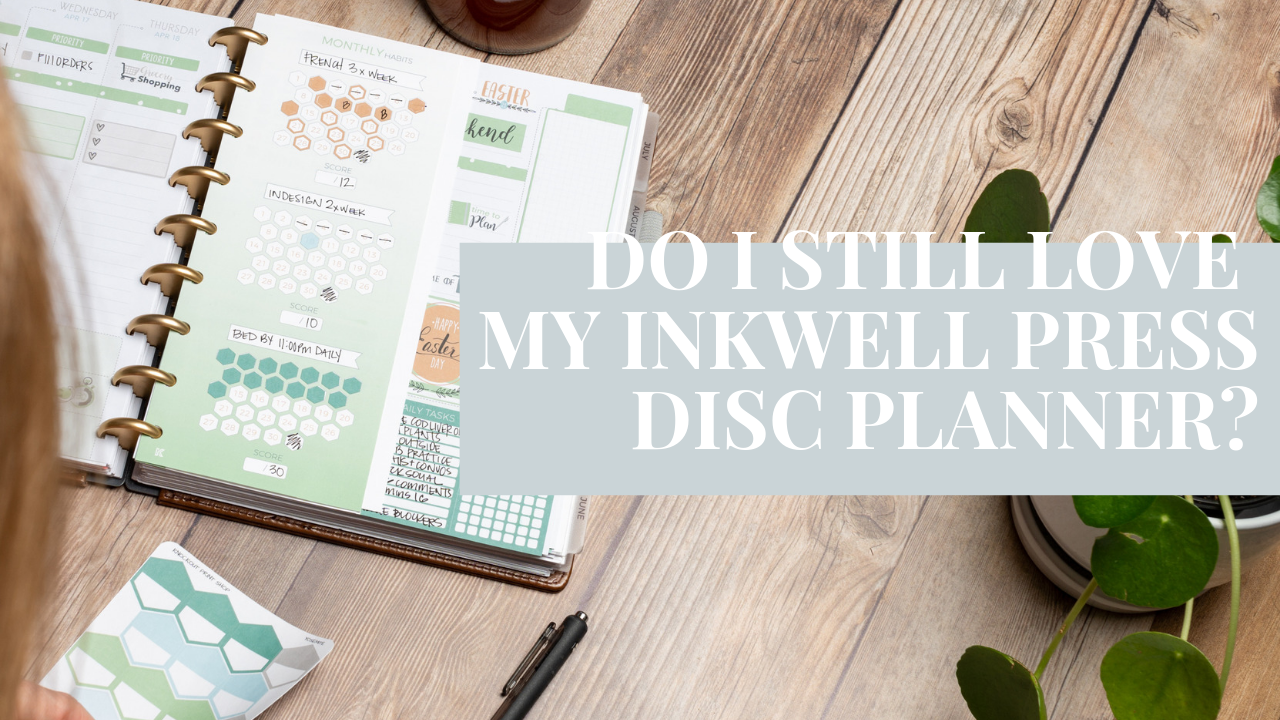 It's been just over 3 months since I purchased and starting using my 2019 Inkwell Press Disc Planner and with the launch of the Academic Year Edition around the corner I thought it was the perfect time to share my updated review.  
My first impression of this new planner by IWP when I purchased it was that it was overall an awesome product! Paper quality still top notch, discs are solid, and the customizability is terrific.  So now that I've been planning with it daily for months...do I still love it? 
Check out my "Do I still love my Inkwell Press Disc Planner?" video below (or scroll down to see my bullet points)!
Things I still love...
Paper quality is awesome! Can't beat it in my opinion!
Pages turn smoothly within the discs
Discs are durable, high quality and beautiful (I don't have any nix or imperfections showing, BUT note my planner lives on my desk)! Metal discs are WAY better than plastic ones! 
Vegan Leather cover is not only beautiful but holding up great (again my planner lives on my desk, so it doesn't see much wear & tear)
Customizability of the disc system rocks! It's been great being able to add & remove pages, create new sections of my planner and utilize a variety of inserts
While I don't love the weekly layout - I also don't hate it & it works for me! I also realize this isn't something we can expect to see change year over year.  This is the Inkwell Press layout and will stay as-is possibly with small tweaks from time to time, but I think overall its a super functional layout for us lined column fans! 
Things I don't love...
Dividers aren't durable or high quality.  Unfortunately these don't hold up like advertised, but IWP is working on a solution for the 2020 planner.  In the meantime if you need more durable dividers we've got you covered!
I'm not a huge fan of the color schemes this year.  I wish there was more variety within and between the color palettes, but the colors have grown on me a bit.
The bookmark sucks and I agree with others that feel it should be included for free.  Mine is basically hanging on by a nub at this point
The non-dated add-ons need to be available all year round (note paper, etc).  They are back in stock for the Academic Year launch - so head to the Inkwell Press and get 'em before they are possibly gone again!
Oh the poor daily boxes - while I liked them back in 2016 when I got my first Inkwell Press Planner now I'm sick of them LOL.  They don't stress me out like they use to when I felt tied to finding the perfect 3 things to put in that section, but I still don't love 'em especially since I don't love the colors this year.  Since this is part of the branded IWP layout I don't see this changing anytime soon, but it's not a deal breaker for me.
So there you have it my Updated Review on the Inkwell Press Disc Planner! I still am a huge fan despite the things I don't love about it and truly believe it's worth the money (minus the IWP dividers)! You can't go wrong with a high quality, durable planner that is customizable! The skies the limit with purchasing inserts, add-ons and more! 
I highly recommend you head over to Inkwell Press and grab an Academic Year Disc Planner and see for yourself! 
*I'm an Inkwell Press Affiliate so if you use one of the links in this post or click the image below to be directed to the Inkwell Press & make a purchase I do get a small commission. 

Leave a comment