Customize Your Inkwell Press Classic (or Makse Life Vertical)
May 17, 2021
by Jessica Lewis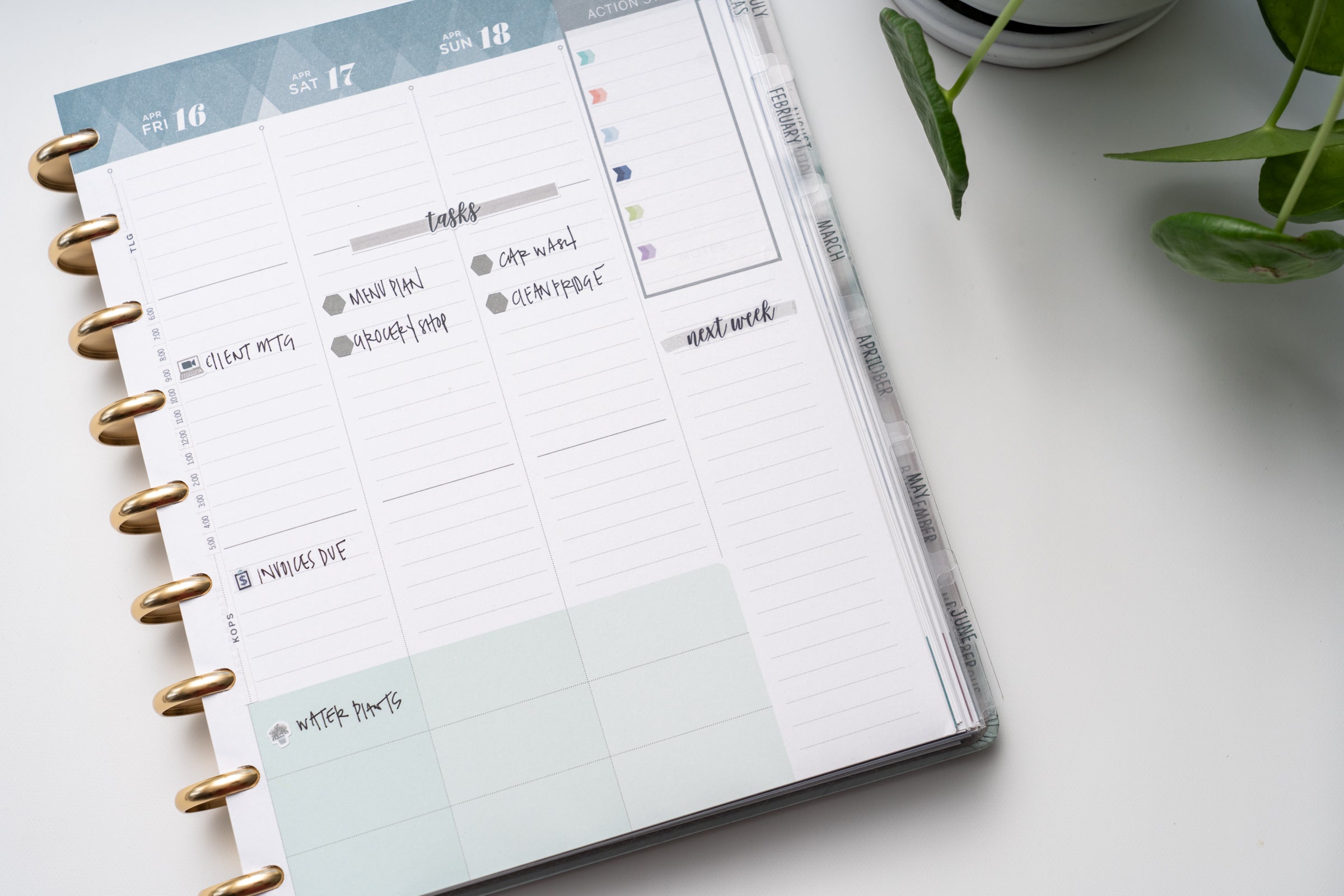 If you are a longtime Inkwell Press Classic (aka Vertical) user, you've experienced a handful of subtle changes to the layout that have been made over the years. And while change is tough especially when you have a planner, layout and system that works for you, we've got some ideas & tools that will help you make your IWP Classic the planner you love.
Custom columns. If you are like me, you probably aren't a fan of the addition of the words "accommodate", "cultivate" and "escalate" on the side of the columns. In fact in 2020 when that change was launch we heard from many of you how that change put you on the verge of trying another planner company, but thankfully we created a solution! Enter our cover strips and time strips.  These let you bring the planner back to it's clean original look OR customize it to create category + schedule sections!
Shift your Weekly Focus (section). If you are a goal setting type of planner you can easily cover that Weekly Focus section in the sidebar (which I personally never use LOL) with our Weekly Action Steps goal sticker! This is a great tool to drill down those monthly goals into actionable weekly small steps. Or try our Weekly Highlight Sticker to create a space of positivity!
Amp up your sidebar.  From Habit Trackers to This Week & Next Week lists your sidebar can become a hub for tracking and list making to keep you on track and focused every week. 
While I've personally been primarily using a horizontal planner the past few years, I was a ride or die vertical planner when I jumped into the planner world and still love the Inkwell Press Classic.  Despite the fact, that many IWP users (myself included) don't love some of the changes made to this layout, I'm are so glad we can offer you options to customize it and still make this planner exactly what you need!
Oh and these tips work well in the Makse Life Vertical as well! Add a time strip to shift your spread to hourly, use dots, checkboxes or arrows with our goal headers to customize your Weekly Goal Page and put down habit trackers & this/next week headers to make lists in your sidebar!
Leave a comment