Boost Productivity. Focus on Your Top 3!
April 13, 2021
by Jessica Lewis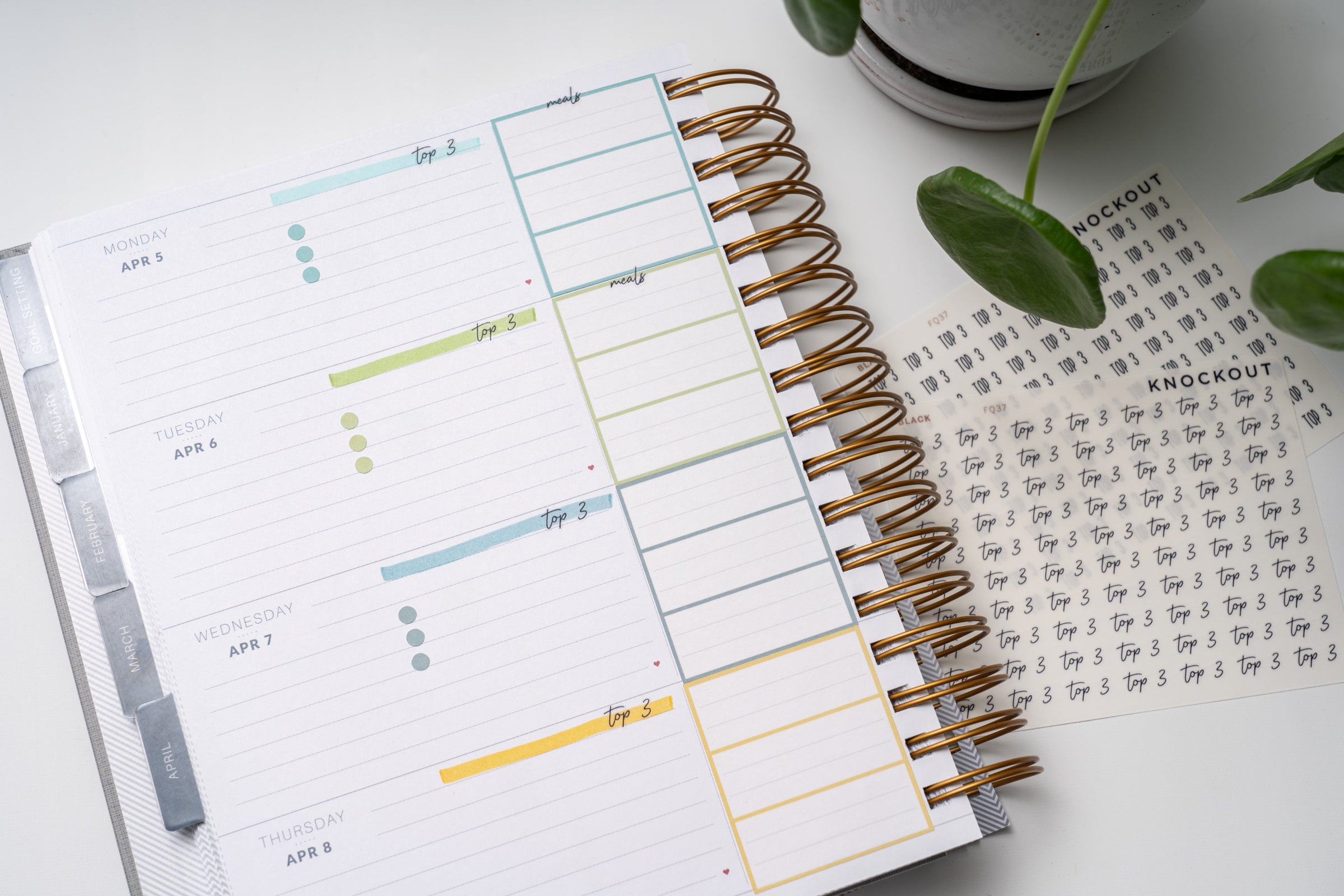 I don't know about you, but I often struggle with wanting to get "all the things" done in one day.  And while when I put my mind to it I can power through one heck of a to-do list, lately I've found that taking a "less is more" with my daily tasks is not only boosting my productivity but reducing stress as well.
When I focus on less my brain doesn't get so overwhelmed with all the things and my day feels more manageable. And while I often do more things than I put on my Top 3 list, I find that simply focusing on those 3 things for sure getting done I have more room for getting the less urgent tasks done too. Plus the less urgent tasks don't seem to pull on me as much since they aren't my focus.
It's all about capacity for me. Mental capacity and time. Sometimes we have the time but our brains are overloaded. Other times we simply don't have time to do it all. And often we try to pack more into a day than we mentally have room for and is realistic. So by designating our Top 3 tasks each day we give our brains direction and create boundaries with our time.
3 Ways to Create a Top 3 List:
Divided Boxes for Makse Life. These stickers are available for both the horizontal and vertical Makse Life Planners are make a great spot to a Top 3 list.
Daily Boxes for Inkwell Press. The built in Daily boxes in the Inkwell Press planners are the perfect spot for a Top 3 List. You can add a little icon to each task to jazz it up too!
Header + Checkboxes. Pair a "To-Do" or "Top 3" header with your favorite type of "checkbox" (and just put down 3) to keep yourself focused and in control of your day.
I'd love to hear your approach to your daily task list. Are you a daily Top 3 tasks type of planner? Do you think starting this approach could help you boost productivity and reduce stress? Head over to our Facebook Group and join the conversation!
Purchase an Inkwell Press Planner! Shop our Inkwell Press sticker collections! 
Purchase a Makse Life Planner! Also be sure to check our Makse Life coordinating sticker collection! 
*this post contains affiliate links. If you purchase using our links we do get a small commission and truly appreciate your support.
Leave a comment