2023 Makselife First Impressions and Review
October 18, 2022
by Jessica Lewis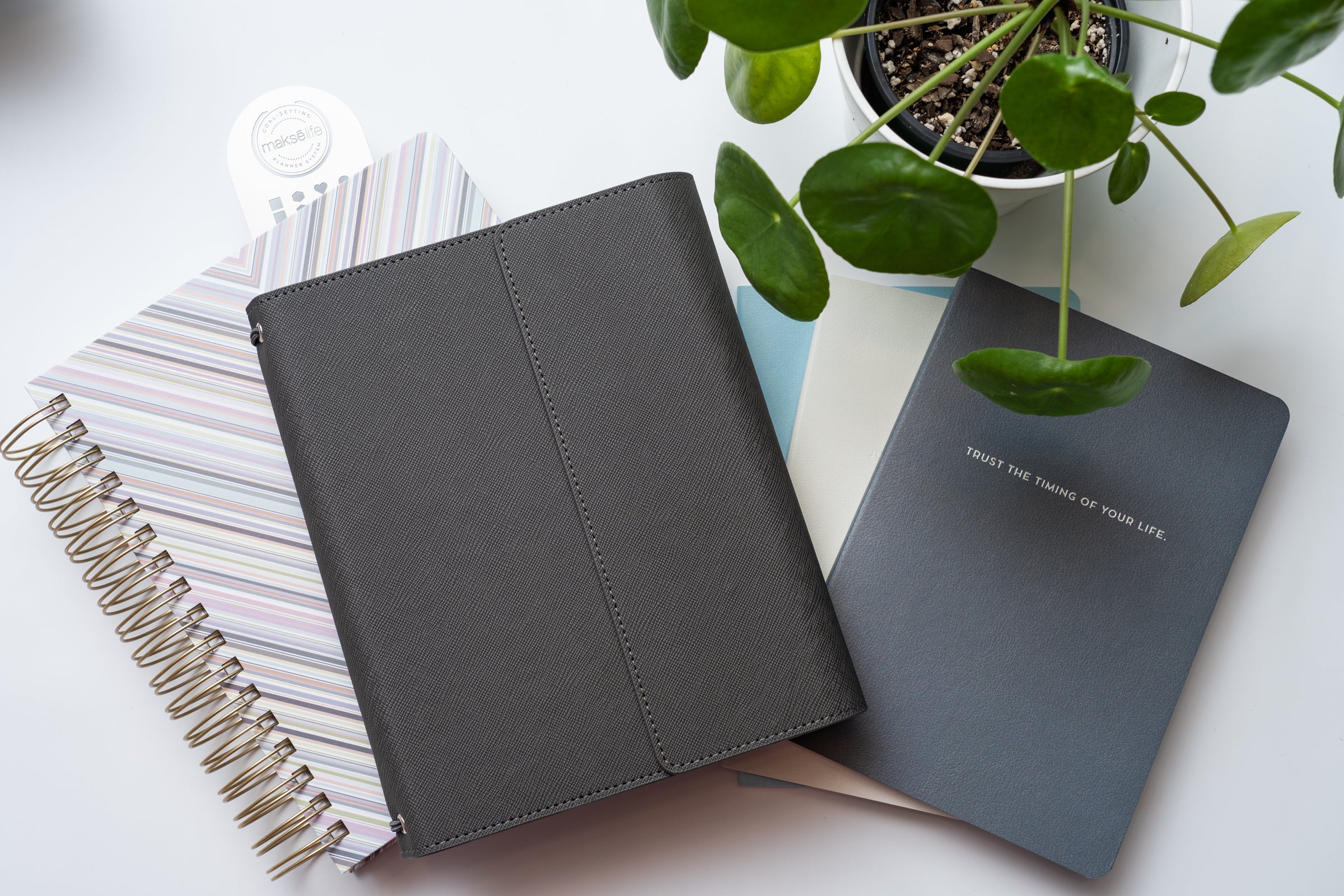 My 2023 Makselife review crew order is here and it's time to share my thoughts!
Makselife Weekly Planner + Goal System  
The Makselife planner is a weekly planner with a built-in goal planning system.  The creator, Sierra Friend, is a life coach who created a goal planning system during her years working with clients and has turned that system into a planner.
2023 Updates
Here's a list of the Updates you will see in the 2023 Makselife planner:
Updated instructions pages across all planner products
Updated 12-month Flagship planner keepsake boxes to match planner choice
New gold wire-o color
Updated area of life colors
Updated monthly spread icon colors to better match month/season
Updated weekly spreads are now neutral
To see all the products, details and pricing, check out their 2023 Makselife Product Guide.
And tune into for "Live with Sierra" to see the 2023 Makselife Products and get your questions answered on Tuesday October 18th 5pm PST/8pm EST on Youtube and Facebook.
Spoiler Alert
Bullet points of my thoughts:
Even though I haven't been doing intense goal planning in my planners the past few years, I appreciate the updated instruction pages - they are reformatted very nicely.
I don't typically keep my keepsake boxes, but if you do you'll love this year's boxes.
I'm totally into this highlighter coordinating area of life colors and the neutral weekly spreads.
Love how the month colors aligning with the season/holiday
2023 Makselife Planners Offered
12-Month Dated Flagship Goal-setting + Weekly Planner (Vertical and Horizontal layouts) - $76
Quarterly A5 Undated Goal-Setting + Daily Planner (Coil Bound and Inserts available) - $58
Quarterly Goal-Setting Companion Notebooks - $58
12-Month Undated Goal Setting Monthly Planner 
Cover Options
There are 4 covers available for the 12-month Dated Flagship planners.  Two of the covers are the artist series showcasing Andi of Honey Creative (she's actually a friend of mine, an awesome graphic designer and the person that did the KOPS rebrand in 2019) and Cindy Guentert-Baldo. Both artist series covers are awesome, but I, of course, got Andi's Lilac Chevron cover.
There's also a dark grey cover called Storm and another called Watercolor Sunrise. Both are beautiful. 
If you are an A5 Quarterly Undated user, wait until you see this beautiful line of faux leather covers in Cloud, Sky, Luna and Storm.
Layout Options
Other than the switch to 100% neutral/greyscale nothing about the horizontal or vertical layouts have changed. I do like both layouts, but opted to only get the vertical this year.  
My only wish is that one day they get rid of that top box/header and find a way to make the columns a tad wider. Maybe even make the vertical lines that separate the columns more subtle. 
I've been using my Inkwell Press Classic (vertical) in 2022 and I do love how their columns feel more spacious.
Other Products 
Along with the planners, Makselife is also launching:
Branded coordinating highlighters with a case
Folio cover
I got the highlighters which I'm super pumped about and this will help us make sure our stickers are as close a match as possible.  I also picked up the folio since I bought the companion notebooks.
My First Impressions
This is a great planner and goal setting system - so if you're in the market for both this is the product for you! 
The paper is great quality, it's a nice neutral planner so you can add as much or as little color and flair as you'd like and the layouts are the tried and true options we all love.  
The only things that don't work for me with the makselife planners are the bulk, and the goal system.  Which go hand-in-hand.  Since I haven't been doing much goal setting in my planners for a few years, I don't have a need for a planner with a whole goal system.  The system is great and if you're into goal setting having your weekly planner combined with your goal setting system is a huge bonus! But if you aren't that person, the added goal setting pages add a lot of bulk.
I love the colors and am pumped we have perfect highlighter coordinating ability this year! 
My Makselife Plan
I will likely play around with my vertical planner, but I think my plan will be to use either my Inkwell Press or Hobonichi and do goal setting with my Makselife Companion Notebooks.
KOPS 2023 Makselife Coordinating Collection
Since there is a subtle color change this year we will be updating our listings to reflect that update.  As you read above, Makselife has updated their colors to coordinate with 8 custom highlighters.
The 8 area of life colors are still the "same", but they've just been tweaked a bit to match 8 highlighter colors. We are excited about this change and having a fresh take on the makselife signature colors!
Affiliate Links
Here's my affiliate link if you are interested in purchasing a 2023 Makselife planner and accessories.
*this post contains affiliate links. If you purchase using our links we do get a small commission and truly appreciate your support.
Leave a comment