2023 Inkwell Press Planner Launch is Coming
September 26, 2022
by Jessica Lewis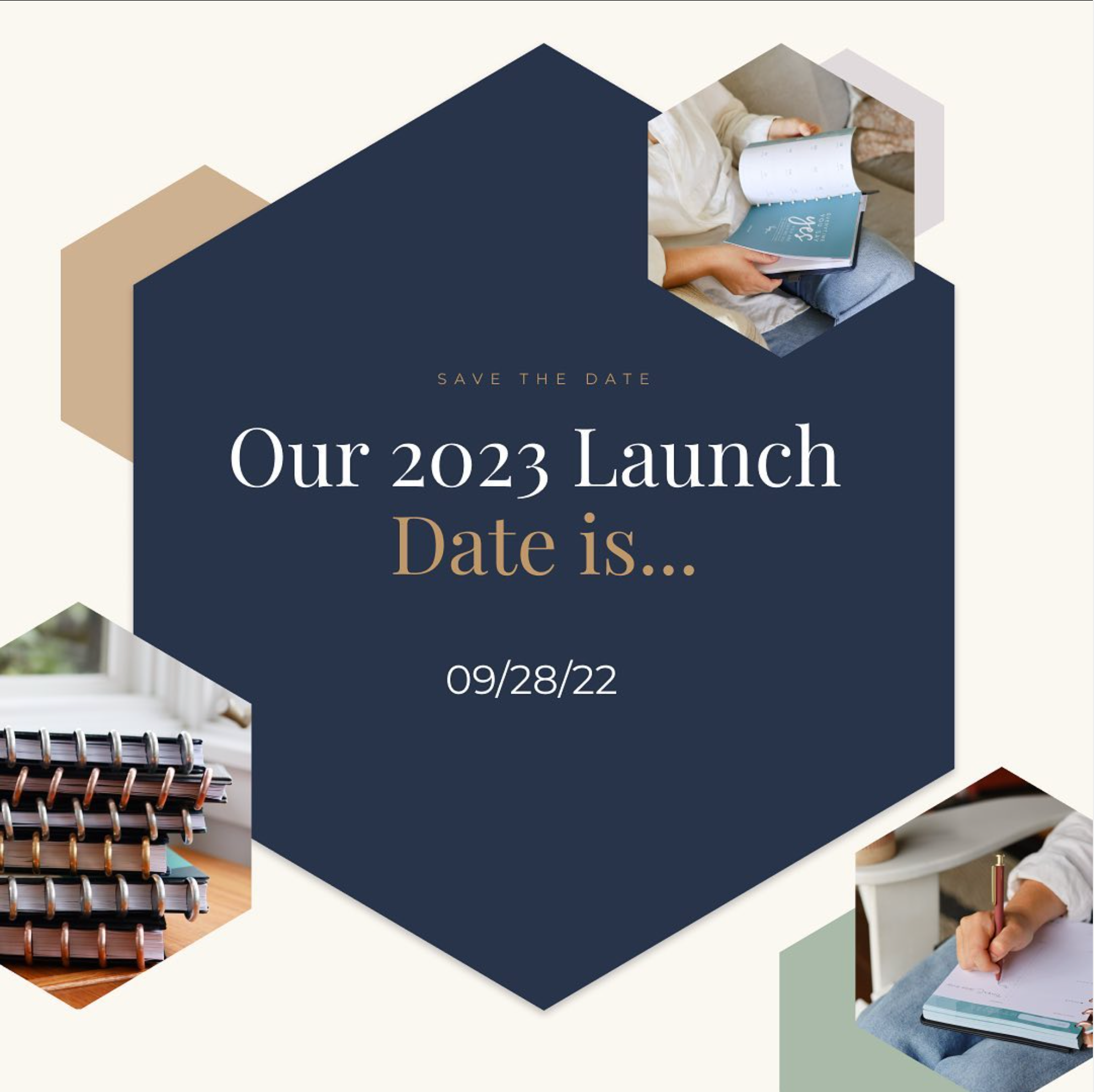 The 2023 Inkwell Press Planner launch is tomorrow September 28th and I'm so excited to see what Tanya Dalton has in store for this year's planners. From the hints on Instagram it looks like we can expect some fun new colors, at least one new cover and possibly some new accessories.
2023 Inkwell Press Planner Colors 
It looks like there will be a yellow, light blue and light pink or coral palette for the 2023 Inkwell Press Planner. Or at least that's what I can gather from the sneak peek posts on their Instagram. 
I'm pumped about the yellow, I'm okay with the light blue, but I'm really hoping that light pink leans more coral or salmon colored in real life.  I've got my fingers crossed for a teal/green as the fourth.  I don't know about you but I really don't want more red, pink or purple after having so much of that this year. 
2023 Inkwell Press Planner Layouts
My guess is there won't be any changes to the Classic or Flex layouts in the 2023 Inkwell Press Planer. It looks like from the sneak peek pictures on Instagram that we can expect everything to be the same.
While this doesn't bother me, since I do love the Inkwell Press Planner Classic layout, I'd love for the header color block to be removed. My dream is for Tanya to go back to the good 'ole days and make the top free of color so the planner as a more netural vibe.
2023 Inkwell Press Planner Covers
It looks like we can expect a new blue patterned cover this year.  While I'm not in the market for a new cover since I have both the brown and navy vegan leather covers which I love, it's always nice to have a new cover option. So I'm excited to see what this one looks like.
2023 Inkwell Press Planner Accessories
It looks like Inkwell Press will be launching some gold stickers for the 2023 launch. While of course I don't need their stickers, these look like a cool functional accessory to add to your cart.
I'm curious to see if they will have any other stickers, notepads, etc to add to this year's new product list. From the caption of this post, we should see more than just planners for 2023.
Inkwell Press New Website
Tanya shared in the launch email that Inkwell Press will be launching a new, more user friendly website on Wednesday with the launch.  While I don't find their website difficult to navigate, I'm excited to see what it looks like. I'm kinda of a website nerd and love seeing how companies update things.
Knockout Print Shop 2023 Inkwell Press Collection 
If you are purchasing a 2023 Inkwell Press Planner you might be wondering "when will Knockout Print Shop launch their 2023 Inkwell Press sticker collection?".
Since we don't get early access to the planner, we aren't able to color match until we have the planner in hand.  I will be ordering Wednesday morning when the launch opens and hopefully will get the planner within a week.  
Once we get the planner, Matt and I start the process of manually matching the colors.  This is definitely time consuming as we test hundreds of colors to get the closest matches possible.  
When we get the color palettes matched, we run a report to see our best selling stickers from the previous year and start working down the list one by one to create each listing in the new colors from best seller on down.  
If you've been a KOPS customer for a while you know this process also takes time. You can expect us to release a few new 2023 Inkwell Press stickers each week. It usually takes us through the beginning of the new year to get all our products converted to the new colors. 
While I know it would be easier to be able to have all the stickers you want released at one time so you only have to purchase once, unfortunately we just aren't able to make that happen.  We also can't guarantee when any one sticker will be available. We truly appreciate your patience during this process. And remember we always have FREE US SHIPPING for orders over $35.
My Wishlist
So I'll be purchasing the 2023 Inkwell Press Planners in Classic and Flex on launch day. And I'll most likely grab some more grid paper too - I love their paper! Other than that, I don't expect to buy anything else (well unless something amazing drops that I have to have).
Like I mentioned above I'd love to see an insert option without the dark header for the Classic. I'd also be happy with those words "escalate, cultivate, accommodate" gone! But I don't think I'd get either of those wishes anytime soon LOL!
How about you?
So do you plan on shopping the 2023 Inkwell Press Planner launch on Wednesday? If so, what will you be buying? Oh and what is on your wishlist for changes to the Inkwell Press Planners?
Comment on this blog post to share your thoughts!
Affiliate Link
Here's my affiliate link if you are interested in purchasing Inkwell Press Planners and accessories.
If you purchase using our links we do get a small commission and truly appreciate your support.
Leave a comment