2023 Goal Setting | Makselife Vertical Planner
January 16, 2023
by Jessica Lewis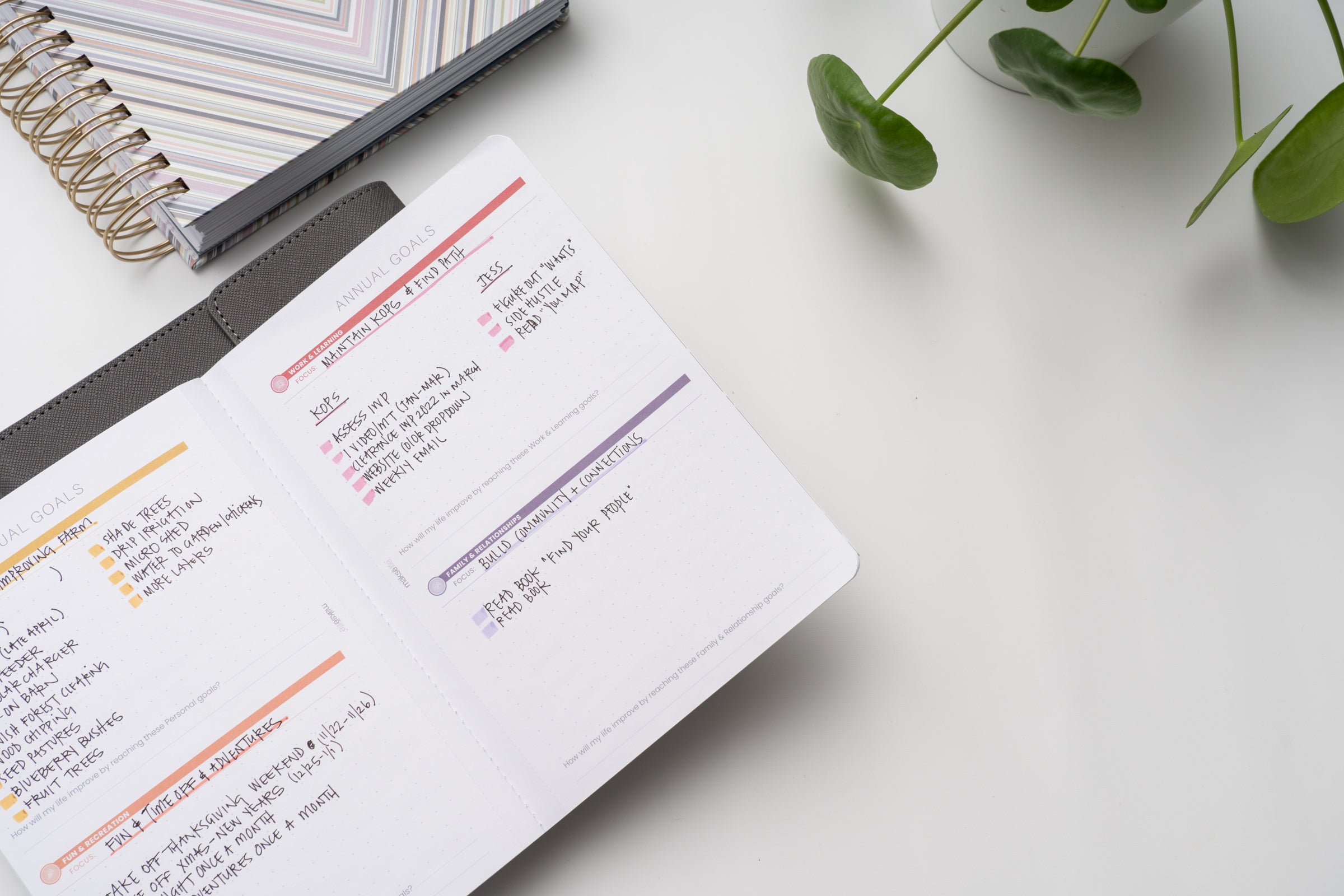 I completed my Makselife Life Compass Assessment, had Matt (my husband) score me too and got all my goals down in my Makselife Vertical Planner. Now it's finally time to share my 2023 Goal Setting video with you. 
Makselife Life Compass Assessment
I think this is a great tool to get an idea of where you are at in each area of life and to compare to the previous year to assess growth.  
For the most part my scores stayed consistent, a few went down. The caveat here is that I typically give myself from a 9-10 in most areas. While many people think this is nuts, I truly am fulfilled, content and feel accomplishment in most areas of my life.  Now my life is far from perfect, but I've spent over a decade improving my health, finances, personal growth, relationships and physical environment so my scores feel accurate.
Now where I "struggle" is Fun & Recreation, Work & Career and Community.  I've gotten much better at Fun & Recreation with taking more time off, but it still needs some work.  Work & Career actually dropped this year after going up last year, as I'm finding my full-time job doesn't feel as fulfilling as I'd like.  And moving into 2023, I'm feeling a stronger desire than ever before to gain a sense of community.
More ramblings on all this in my video.
Annual Goals - Top 3 Areas
So the areas I mentioned above that I struggle with are my top focus for this year. - Fun & Recreation, Work & Career and Community (which I guess would be Family & Relationships in the Makselife system).  While I do have goals in the other areas, they're more maintenance type goals. And Personal (aka Farm for me) always has a lot of "goals", but those items are more task based. 
For Fun & Recreation my focus is to continue prioritizing taking time off and going on adventures.
For Work & Career my focus is all about finding my path.  What do I truly want to do, what are my strengths and how do I apply that in my career life. 
For Family & Relationships (which I'm calling community) my focus is to foster community and connections.
Planner Set-Up
My Life Compass is completed, my annual and month goals are set and I've been setting Weekly Action Steps in my Makselife Vertical Planner.  I started all of this in the Makselife Companion Notebooks because I didn't plan on using my Makselife Vertical as my main planner, but that changed.  I'm using my Makselife Vertical as my weekly so I've transferred all my goal stuff over.
Vision for 2023
I don't know about you, but 2022 was kinda of a weird year and I'm looking forward to seeing what 2023 has in store.  I feel like I learned all about about myself last year that I can apply to my life to meet my goals this year. 
My word of the year is FEARLESS and I think that sums up my desire to step out of my comfort zone and continue creating the life I want.
Share Your Goals
How did your goal setting process go for 2023? Any goals (big or small) you'd like to share? 
Affiliate Links
Here's my Makselife affiliate link if you are interested in purchasing a 2023 Makselife planner and accessories. 
*this post contains affiliate links. If you purchase using our links we do get a small commission and truly appreciate your support.
Leave a comment