2022 Quarter One Goals Review
March 25, 2022
by Jessica Lewis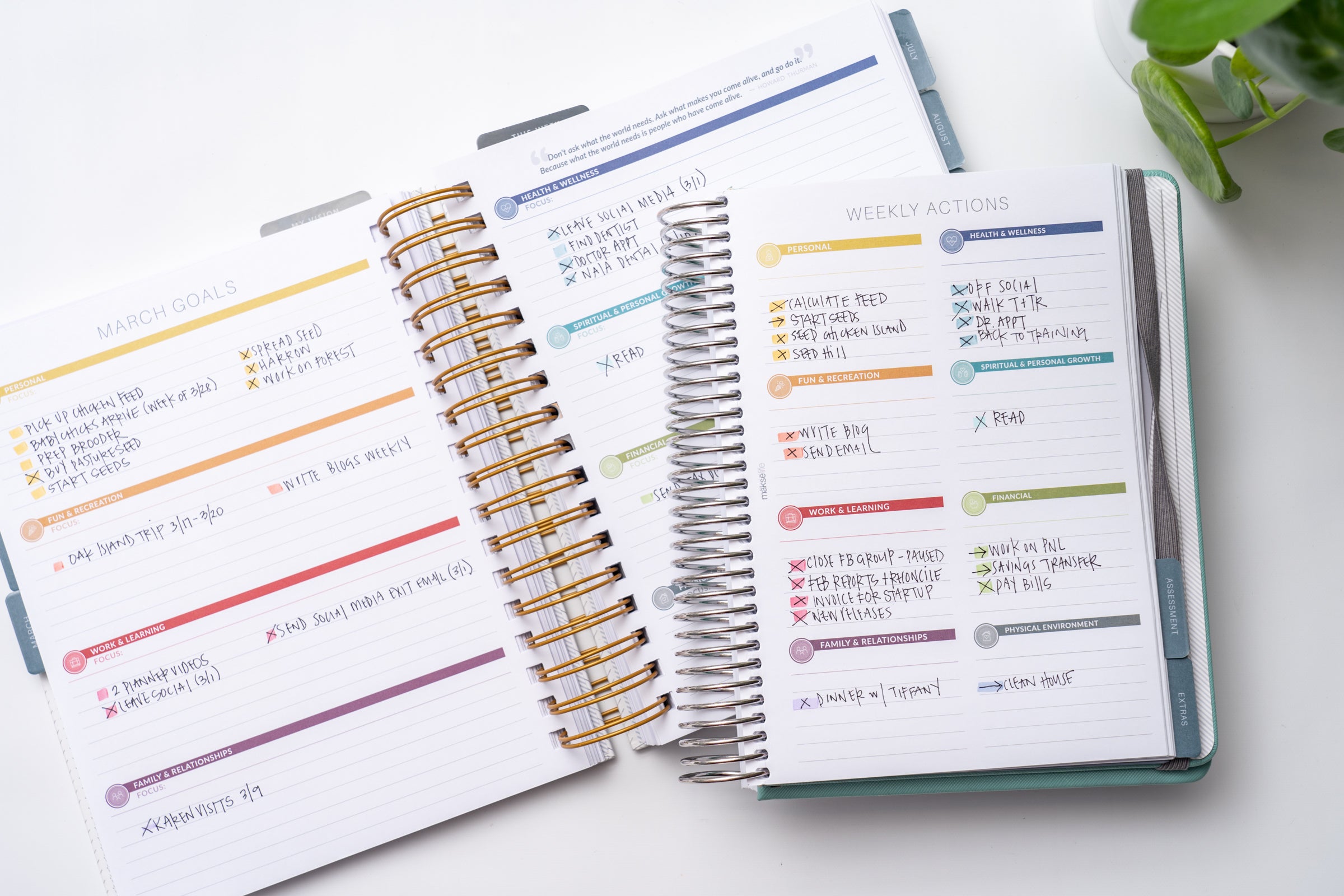 We are one week out from the end of quarter one and it seems like this year is flying by! Despite how fast time seems to be going, I'm happy to report I'm staying on top of my goals and making great progress. I didn't think I would focus much on goals this year, but my 2 planner system is working for me and my mind seems to be naturally focused on the things I want to accomplish.
My 2022 Goal Planning Set-Up
This year I'm using the Makselife Vertical as my main hub to keep track of annual and monthly goals along with a record of "events" in my monthly calendars.  I've been using my Makselife Daily for my weekly action steps and day-to-day planning. 
My 2022 Goal Planning System
So here's the gist of my system. At the beginning of the year I did my assessment activities and set my annual goals in my Makselife Vertical (mainly focusing on 3 major life areas). Then at the end of each month I look back on my annual goals to set the coming month's goals in my Makselife Vertical.  Each week I set weekly action steps in my Makselife Daily based on my month goals.  I also use the "Focus" section of each day in the Makselife Daily to track action steps done that day when applicable.  
Throughout each month I use my Makselife Daily month view to track various events and notable things which I transfer to my Makselife Vertical when I do my month-end review. 
This system is definitely working for me, BUT since the Makselife Daily is only a quarterly planning after March I won't be using it anymore since I only bought one.  I know it probably seems silly not to keep up with a system that is working for me, but I really don't want to have to buy a planner every quarter.  So for quarter 2 I've got a few ideas.
Quarter 2 Goal/Planner System & Set-Up Changes
My first option is to use one of the many 2022 weekly planners I have and just make sure I keep my Makselife Vertical as my hub (if I don't use it as my weekly too). Another option is to using a daily planner notepad (I was going to buy the Makselife one, but I have the Inkwell Press one so I might use that) and then transfer all the things to my Makselife Vertical.
No matter what route I go I plan to keep the Makselife Vertical as my annual hub so I can refer back to things when needed.  I clearly should have purchased the Makselife Companion Notebooks for this system from the beginning (maybe next year LOL).
Quarter 1 Goal Review
The first quarter of 2022 has been a success.  I've focused mainly on Personal (which is Homestead/Farm for me), Work and Home and checked off a ton of goals. 
I think the main thing that is helping me achieve my goals is that I'm super focused on a 3 areas. While I have a few goals in the other 5 areas, having a main focus makes it easier to devote my time, energy and attention to what is truly important right now. As I've always believed and shared, less is more. 
I have to admit sometimes I do feel overwhelmed by all the things I want to achieve/get done within my 3 focus areas, but I just have to remind myself "one thing at a time". Plus thankfully some of my goals have a specific date or time of year attached to them, so I can't get too ahead of myself anyways.
Quarter 2 Goal Planning
Quarter 2 is going to have a huge focus on the farm.  Springtime means the farm comes alive.  Baby chicks are arriving, we have our first ever lambing season, the gardening beginnings and we continue our exhausting but rewarding efforts to clear our land. Mixed into all the farming stuff is some home improvements, business stuff, and fun & recreation goals like redoing my personal website and creating a website for Matt's photography.
Conclusion
I'm not sure if it's my goal system or simply my focus this year, but I'm getting things done and feeling productive. Maybe it's just realizing what is important and that you can only do so much in a day.
My goal is to do a planner update video next week and share all this visually with you as well as how I've been planning lately (spoiler alert...it's not fancy), so I will "see" you all next week!
Affiliate Links
Here's my affiliate link if you are interested in purchasing a 2022 Makselife planner and accessories.
*this post contains affiliate links. If you purchase using our links we do get a small commission and truly appreciate your support.
Leave a comment